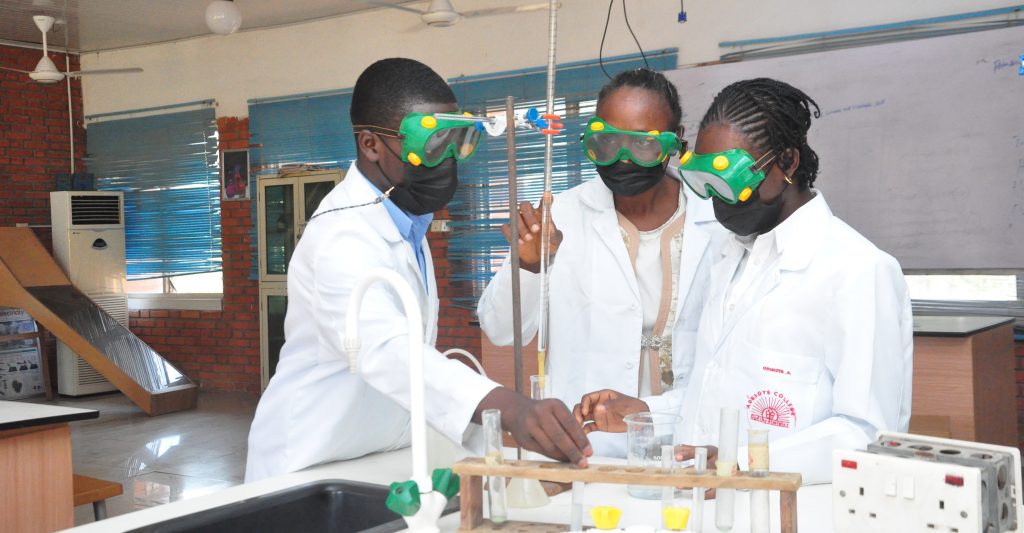 AGE CONSIDERATION
Students are generally expected to have attained the age of 10 by September of their first year.
ADMISSION REQUIREMENT
Admission to the College is through examination, which is ongoing. Admission is granted in order of application; the college maintains a waiting list once capacity is reached. A large portion of the JSS1 slots are offered on merit, but care is taken to ensure that all states in the country are represented.
Please note that Adesoye College admits into J.S.S 1 as well as into midstream of J.S.S 2, S.S 1 & S.S 2.
We will offer provisional admission to midstream students based on the analysis of their previous academic results and their performance in the placement exam.
The following documents are also required for midstream admission:
1. A copy of our registration form with two passport size photographs (accompany the form with #10,000 registration fee).
2. A copy of candidate's birth certificate.
3. A copy of candidate's latest school result.
4. Transfer certificate
5. A copy of reference letter.
Please click the button below to fill the admission form.
Follow the information and enter your details, and submit.
You can visit any of our examination centers to obtain your forms.
Admission registration fee of #10,000 should be deposited into the school's account number.
ACCOUNT NAME: ADESOYE COLLEGE OFFA
ACCOUNT NUMBER: 1012027737
BANK: ZENITH BANK
ACCOUNT NAME: ADESOYE COLLEGE OFFA
ACCOUNT NUMBER: 0036642200
BANK: GT BANK
A copy of the teller or receipt should be brought along when coming for the entrance exam or can be forwarded to the following emails
headoffinance@adesoyecollegelms.org
admission@adesoyecollegelms.org
Please, feel free to contact admissions at 08091030012 / 08068997424 or send an email via admission@adesoyecollege.org
IMPORTANT EXAMINATION DATES
* Saturday 20th May, 2023.
(FIRST YEAR / MIDSTREAM EXAMINATION)

* Saturday 17th June, 2023.
(FIRST YEAR / MIDSTREAM EXAMINATION)

* Saturday 22rd July, 2023.
(FIRST YEAR / MIDSTREAM EXAMINATION)


EXAM CENTERS
KADUNA
Juniors International School,
3A, Damadamma Close,
Off Degel 2 Road,
Kaduna

KANO
Sunflower School,
Miyangu road,
Nasarrawa GRA.
OFFA
Adesoye College,
PMB 4700,
Igosun road,
Offa Kwara State.
IBADAN
Sonbeam Preparatory School,
No 1 Sonbeam Crescent,
New Bodija Ibadan.
Call: Bridget (080-37006738)
PORT HARCOURT
Montessori Int'l School,
64 King Perekule Street,
GRA Phase II,
Port Harcourt.
Call: Grace (080-37091932).
WARRI
The Cradle school
Plot 6
19th Street DDPA,
Ugborikoko Effurun

Call: Nelson (070-34333398)
LAGOS
Salvation Int'l School,
10 Oba Akinjobi way,
Ikeja GRA, Lagos.


Nouveau Schools.
No. 12,
Babatunde Jose Street (former festival road),
off Adetokunbo Ademola Street.
Victoria Island.
ABUJA
Olumawu Basic Education School,
Plot 92, Adetokunbo Ademola Crescent,
Wuse II.
ILORIN
Cherub Schools,
Baba Ode layout, Ita-Elepa junction,
Asa-Dam Road.
OSOGBO
Rehoboth Nursery and Primary School
KM 2, Iwo-Osogbo Road.